I forgot (how could I!?) to mention that before I spent 2 weeks up in Oakland, we were lucky enough to have a visit from our friends Anne-Claire and John. They lived in Pacific Grove (next town over from Monterey) and AC went to MIIS with me. They are our favorite people to watch the Bachelor/Bachelorette with...but they're also really great people (check out
John's blog
for some great travelogues from this summer when they hiked the Camino de Santiago in Spain/France and last summer when they revisited Niger where they met in Peace Corps several years ago). They stayed with us, and in the morning we walked around Point Lobos in the gorgeous fog, and then went whale watching, during which we saw a blue whale (!) and several humpback whales. The blue whale was just incredible. A small bit of its back surfaces, and then you see the length of its back (100 ft or more!) just a few feet at a time. Its blow is not particularly larger than that of a humpback whale, so when the length of it is at least twice the size of the humpback, you assume that the animal must have a serpentine shape, not that of a whale. If I had never seen a picture of a blue whale before, I would have assumed that the animal looked like this:
(because this is all you see for a long time, and you can tell that the back is slithering forward)
not like this:
Here is a short gif...maybe you can imagine the foreverness of it...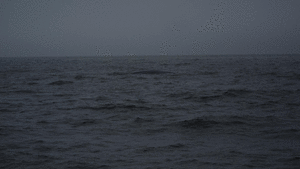 picasion.com
Anway. Enjoy our photos.
Friends walking through Point Lobos forest. Not the greatest photo of us.
Lovely day to paint the landscape
I love the ocean colors and the sage/desertish colors side by side.
Texture
Serious fog only brightens the sage brush color
And whales we saw!!
Brown Albatross
Humpback tail
Humpbacks surrounding us, and very close.
Anne-Claire almost forgets about her sea sickness with the spouting of the whales.